Meetings & Celebrations at Hidden Valley Resort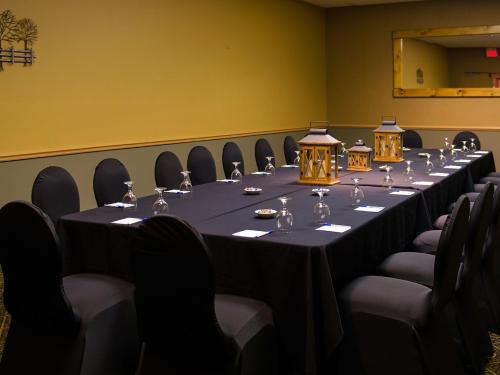 Hidden Valley Resort is the perfect setting for all your special events. Whether you're arranging a business conference, corporate function, or planning the most important day of your life, our team of professional event planners can help sort out the essential details. We're committed to providing you and your guests with a premier event facility coupled with the highest commitment to service excellence
"I just wanted to say a huge THANK YOU to you and the rest of the staff for a wonderful weekend.
Out of the 10 or so meetings of this nature I have been a part of and help organize this was hands down one of the best ever. This was largely due to you and your team's professionalism and amazing service. Please extend my commendation to all the staff that I was blown away by you .
-Tasha Ismail Senior Manager, Political Operations, Regional Outreach Golden Horseshoe
"It has been our great pleasure to work with Hidden Valley on a number of events. Not only have their staff come forward to assist, they've also participated with enthusiasm (thanks go out to the General Manager for being a January 1st Polar Bear dipper on two occasions). Their staff is professional and courteous and respond quickly to respond to all requests. We were so pleased with the food presentation and staff on hand to assist with everything from the media setup to event needs. Habitat for Humanity Muskoka is pleased to have had the opportunity to partner with Hidden Valley Resort and look forward to more in the future."
Ellen Frood, Muskoka
"Yesterday was wonderful and I was so pleased with the way everything turned out. The room was perfect and looked great. There were many compliments on the luncheon menu – how delicious it was! The staff including yourself were most accommodating and professional in their service.
I thank you; the staff and the resort for helping us make this possible. You were most willing to work with us and our budget and that was much appreciated! Overall my hopes for the end result were totally met! Thank you for all your efforts and again your guidance and patience!"
Huntsville, On
When we first chose HV to host our event we were unsure what to expect. It was the first time in over 10 years that we were hosting an event where we took over the entire resort. From the first moment our group walked in we were greeted with a very warm welcome and made to feel like it was our home. The whole team at the Resort helped to make our events extra special in every way they possibly could. It was also amazing to be treated like we were all one team and it was refreshing to have the team at HV suggest some new ideas to help make our events that much more spectacular. I would certainly recommend HV resort to any group considering the venue. You will be hard pressed to find any other venue so accommodating and a team willing to go that extra mile to make your event extra special.
Suzy Stenoff
Co-Founder/Director
Kelly Shires Breast Cancer Snow Run
David and I can't say enough to express what an awesome experience our wedding weekend was at hidden valley! The resort team made sure every detail was perfect and kept us calm and taken care of during our big day: from the Friday night beach volleyball, bbq, and bonfire, to the late night poutine buffet, we couldn't have asked for a better time. They took care of us and all of our guests, making sure we all had the time of our lives. We had so much positive feedback from our guests and almost everyone went out of their way to tell us it was the best wedding they had ever been to.
Jean & David
The Antoniades Family Weekend

From the very first contact to check out, every staff person we dealt with was so helpful and nice. I think everyone in our group commented on how great the staff were! The rooms, the facilities, and the food were all excellent. Hidden Valley really helped our group enjoy our weekend together.

with thanks,
Helen
Just wanted to sent a heartfelt thank you to everyone at Hidden Valley for making our special day so wonderful.

We are really pleased with how everything went and have received multiple compliments (especially on the food). Cant wait to come back and celebrate our one year anniversary!

Thank you
Ashley & Tim
I just wanted to say as the mother of the groom, I was very pleased with your service from the beginning and even after the Wedding Day. Everyone was so helpful "above and beyond" what I had expected. I was a little nervous as everything was going too smoothly. We did not have to do anything except my daughter-in-law added some personal touches to the tables. Our guest said it was one of the best weddings they had been to. The dinner was awesome with rave reviews on the stuff chicken! I would like to say a special thank you to everyone who help to make this a perfect day for my Son and his bride. Even the weather gave us a perfect day! This allowed us the use of the outside deck right off of the Muskoka room. I would recommend this venue to anyone planning a wedding in the Huntsville area.
Thank you again for your service.
Gwen